• Gallery TEN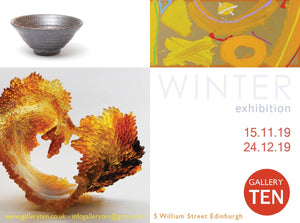 Our annual Winter exhibition comprises a general mix of local artists, works from the years shows and from the galleries own inventory. Works shown on the invite are - print by Anthony Frost, glass by Nina Casson-Mcgarva and ceramic bowl by Anne Mette-Hjortshoj plus lots more.  
---
• Gallery TEN • Collage • Emerging Artist • Glass • Mixed Media • Production Glass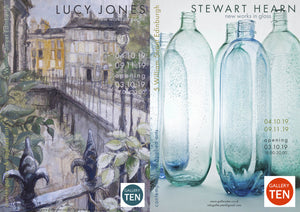 Lucy Jones had her second solo exhibition at the gallery alongside glassmaker Stewart Hearn.
---
• Gallery TEN • Ceramics • Glass • Original Prints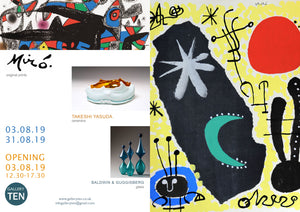 2019 Festival exhibition saw a selection of original prints from Joan Miro. Alongside ceramics from Japanese potter Takeshi Yasuda and glass by Baldwin & Guggisberg.  
---
• Gallery TEN • Chick Chalmers • Photography • Publications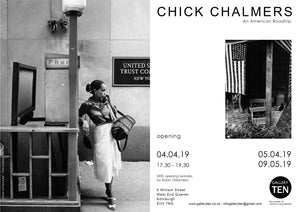 During 1980 Chick Chalmers spent over nine months travelling the USA in an ancient VW camper van. He did over 30,000 miles and took nearly 10,000 photographs. He returned to Edinburgh with a remarkable body of work. This exhibition is a very small snapshot of those images.Gallery TEN presents a set of black and white prints being made available to for the very first time since Chick passed away in 1998. These are quite simply some of the best black and white documentary photographs you will ever see.  
---
• Gallery TEN • 1950's • 1960's • Original Prints • Posters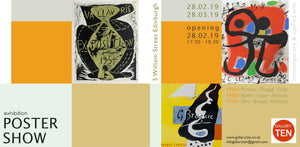 An eclectic look at artist posters from the 1950's, 60's & 70's. Including posters by Picasso, Braque, Leger, Miro, Hockney & others. A great way to get stunning works by well known artists at affordable prices.