• Gallery TEN • Ceramics • COLLECT • Emerging Artist • Glass • Information • Silversmith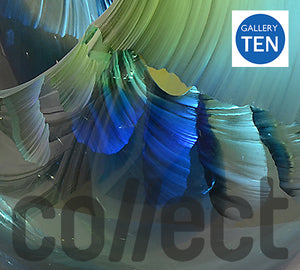 Gallery TEN will be taking part in the forthcoming COLLECT Art Fair. There will be a number of galleries holding individual events in their own spaces. This will be the COLLECT [unlocked] events - Gallery TEN will be holding a showcase of selected artists works - Scott Benefield (Glass), Edmond Byrne (Glass), Juli Bolaños-Durman (Glass), Nancy Fuller (Ceramics), Bryony Knox (Silver), Graham Muir (Glass) & Karen Westland (Silver). Exciting to see what they produce for the show!  
---
• Gallery TEN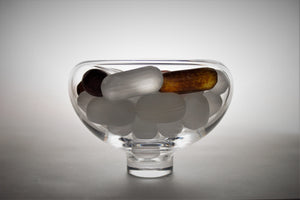 Gallery owner Paul Musgrove trained as a glass maker and ran his own Glass Studio in Edinburgh during the 1980's. He continues to make glass occassionally and is involved with a number of current makers works. Gallery TEN has a special interest in Glass as a material and has a broad inventory of available works at any given time. It hosts regular exhibitions of Glass Artists both from the UK and International based.  Please contact the gallery if you would like to enquire about a particular artist and availability of works.
---
• Gallery TEN • Information • Original Prints • Technical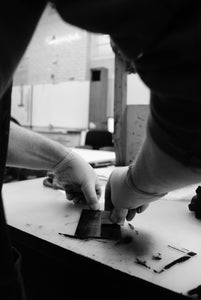 The art or process of producing etched plates from which a print can be made.   Ink being prepared to cover the etched plate or matrix.    Ink is wiped from the plate ready for printing   Placing the paper on the inked plate   Print being lifted after being through the press
---
• Gallery TEN • Information • Original Prints • Publications • Technical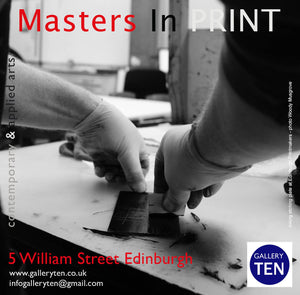 Original Prints are works of art or images that are created by hand from one of the principle printing techniques; plate,stone, block or stencil. They are usually printed by the artist or by a professional printmaker (known as Artisan or Master Printer) each is printed for the sole purpose of producing the final printed image. Due to the nature of the processes involved each of the prints is often slightly different. This makes original prints quite unique. The prints are produced in a fixed number or Limited Edition, each signed and numbered (sometimes tilte also) by the artist. Once completed...