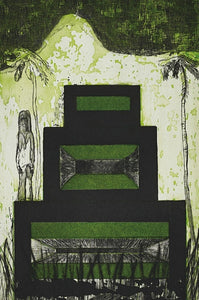 Peter Doig - Maracas
Regular price
£0.00
£0.00
Unit price
per
Maracas
Peter Doig (b.1959-)
2004
Etching & Aquatint
Signed, dated & numbered
Edition of 120 + 10 A/P's -  #2/120
Size - Paper - 53.2 x 38.1 - Image - 29.6 x 19.7 cms
Published by Texte zur Kunst, Berlin
Condition - Excellent
Note:
The etching by Peter Doig (2004) with the title "Maracas" is a two-tone aquatint from a copper plate on handmade paper (printed by G. Fritze Margull, Berlin). Maracas Bay is a bay with sandy beach on the island of Trinidad. Doig is a resident of Trinidad.

Useful Stuff -
Title: This is the artist's or known catalogue title for the work.
Artist:  The artist's known as name.
Type: Process or processes used to make the print.
Edition: The number of know prints in the printed edition.
Sheet size: The overall size of the paper sheet the work is printed on.
Published: When the work was made or printed, which might be later than work was originally made and or who published the work.
Signed: Whether or not the work is signed.
Framed: Whether the work is framed or not and brief description of frame.
Condition: Mint/Excellent/Very Good/Good/Average/Poor +/-
---
Share this Product
---