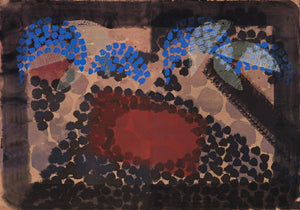 Howard Hodgkin - For Bernard Jacobson
Regular price
£0.00
£0.00
Unit price
per
For Bernard Jacobson
1977-1979
Howard Hodgkin (1932-2017)
Lithograph from 4 zinc plates
Printed on cream Velin Arches mould-made paper
Plus hand applied colouring in gouache and wax crayon
Edition of 80 - this print is an Artists Proof A/P
Size 106 x 150 cms (Two sheets)
Printed by Sky Editions, London
Published by Bernard Jacobson, Ltd., London
This proof print carries a full signature on each sheet
Note - This is a true trial proof with several of the print layers in a different order to the final edition. Also, there is a missing hand applied layer to the lower right. Although marked as an A/P it is a unique print. Tate - P07377  

This print is dedicated to the art dealer and publisher Bernard Jacobson. It shows the view from a balcony in India at night; the yellow forms and blue dots represent banana leaves. The idea for the print grew out of Hodgkin's abandoned project to illustrate EM Foster's book A Passage to India. This was one of the first prints to be on the same scale as Hodgkin's paintings. It is also one of the most technically complicated prints he ever made. Not only are layers of printing and hand colouring interleaved, but each sheet of paper was hand-dyed using vegetable dyes to achieve its rich dark colour.

Useful Stuff -
Title: This is the artist's or known catalogue title for the work.
Artist:  The artist's known as name.
Type: Process or processes used to make the print.
Edition: The number of know prints in the printed edition.
Sheet size: The overall size of the paper sheet the work is printed on.
Published: When the work was made or printed, which might be later than work was originally made and or who published the work.
Signed: Whether or not the work is signed.
Framed: Whether the work is framed or not and brief description of frame.
Condition: Mint/Excellent/Very Good/Good/Average/Poor +/-
---
Share this Product
---